Planning a wedding is an exhilarating journey filled with countless decisions, and one of the most important choices a bride will face is selecting her dream wedding gown. Every bride envisions walking down the aisle in a dress that makes her feel like a princess. This article will explore the world of stunning, ever-after bride gowns and provide valuable insights to help you find the perfect dress for your unforgettable wedding.
Introduction
Your wedding day is a once-in-a-lifetime event, and your bridal gown plays a significant role in making it truly memorable. Whether you dream of a traditional fairytale wedding or prefer a modern and minimalist celebration, endless options are available to suit your style and preferences.
Understanding Your Style
Before you start shopping for your dream gown, take some time to reflect on your style. Consider the types of clothing you feel most comfortable and confident in. Are you drawn to timeless elegance, bohemian chic, or contemporary designs? Understanding your style will help narrow your choices and ensure you select a gown that reflects your individuality.
Considering the Wedding Theme
The theme of your wedding can significantly influence the style of your gown. If you're planning a rustic outdoor ceremony, a flowing bohemian dress with delicate lace details may be the perfect choice. A classic ball gown with intricate beadwork can create a show-stopping look for a formal black-tie affair. Aligning your dress with the overall theme of your wedding will create a cohesive and visually stunning experience.
Exploring Different Silhouettes
Wedding gowns come in various silhouettes, each offering a unique aesthetic. From the princess-like ball gown to the sleek and statuesque sheath dress, there is a silhouette to flatter every body type. Visit bridal boutiques and try on different styles to see which ones enhance your natural features and make you feel confident and beautiful.
Deciding on the Right Fabric
The fabric choice can significantly impact your gown's overall look and feel. Delicate materials like chiffon and organza create a romantic and ethereal appearance. At the same time, satin and silk lend a luxurious and sophisticated touch. Consider the season and climate of your wedding when selecting a fabric to ensure you'll be comfortable throughout the day.
Classic Elegance
Timeless designs always stay in style. Classic elegance exudes sophistication and grace with clean lines and minimal embellishments. A simple A-line gown or a tailored mermaid dress can be the epitome of timeless beauty.
Bohemian Chic
Bohemian-inspired gowns have gained popularity for their whimsical and carefree vibe. Flowing fabrics, floral appliques, and relaxed silhouettes capture the essence of bohemian chic. These gowns are perfect for outdoor or destination weddings.
Modern Minimalism
Modern minimalism is the way for the contemporary bride who appreciates clean and sleek aesthetics. Crisp lines, geometric shapes, and monochromatic palettes create a sense of modernity and sophistication.
Fairy Tale Romance
Every bride deserves her fairy tale moment, and romantic gowns fulfill that dream. Layers of tulle, intricate lace, and cascading trains create a fairy tale ambiance. These gowns are perfect for brides who want to feel like princesses on their special day.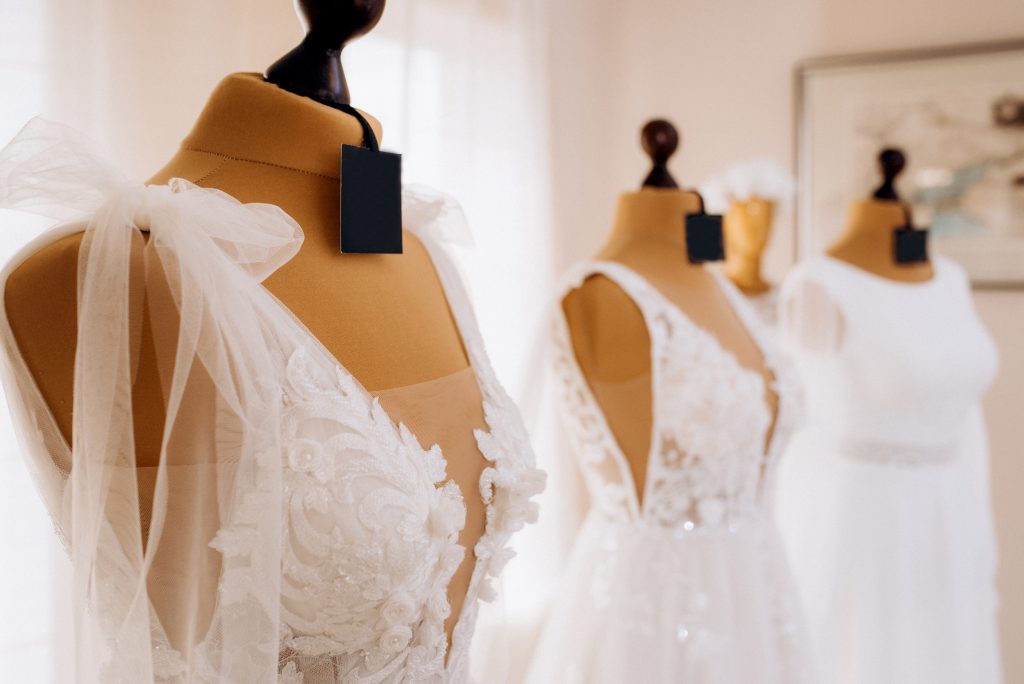 Design Details and Embellishments
Intricate Lace
Lace has long been associated with bridal elegance and adds a touch of femininity to any gown. From delicate Chantilly lace to bold and dramatic Alençon lace, the intricate patterns create texture and visual interest.
Dazzling Beadwork
For brides who desire a touch of sparkle, beadwork can transform a gown into a dazzling masterpiece, whether with subtle shimmer or full-on sequin embellishments. The play of light on the intricate details creates a stunning effect.
Delicate Embroidery
Embroidery adds a touch of artistry and craftsmanship to wedding gowns. Intricate threadwork and floral motifs can transform a simple dress into a work of art, making you feel like a walking canvas.
Dramatic Trains
A train adds drama and grandeur to a wedding gown, creating a breathtaking moment as you glide down the aisle. From sweeping cathedral-length trains to shorter, more manageable options, choose a train that complements your venue and personal style.
Tips for a Flawless Fit
Importance of Professional Alterations
Professional alterations are essential to ensure your gown fits you like a glove. Seek the expertise of a skilled sewist who can make precise adjustments to achieve the perfect fit, allowing you to move and dance easily.
Choosing the Right Size
Remember that bridal sizing can differ from regular clothing sizes when selecting your gown. Stay encouraged if you need a size larger than you usually wear. Please focus on the fit and how it makes you feel rather than the number on the tag.
Understanding Necklines and Waistlines
Different necklines and waistlines can highlight your best features and create a flattering silhouette. Experiment with variations like sweetheart, illusion, off-the-shoulder necklines, and empire, natural, or dropped waistlines to find the most flattering combination for your body shape.
Emphasizing Your Best Features
Consider the aspects of your body that you want to accentuate. If you have stunning shoulders, opt for a strapless gown. A mermaid silhouette can showcase your curves if you have an hourglass figure. Choose a dress that enhances your natural beauty and makes you feel confident and radiant.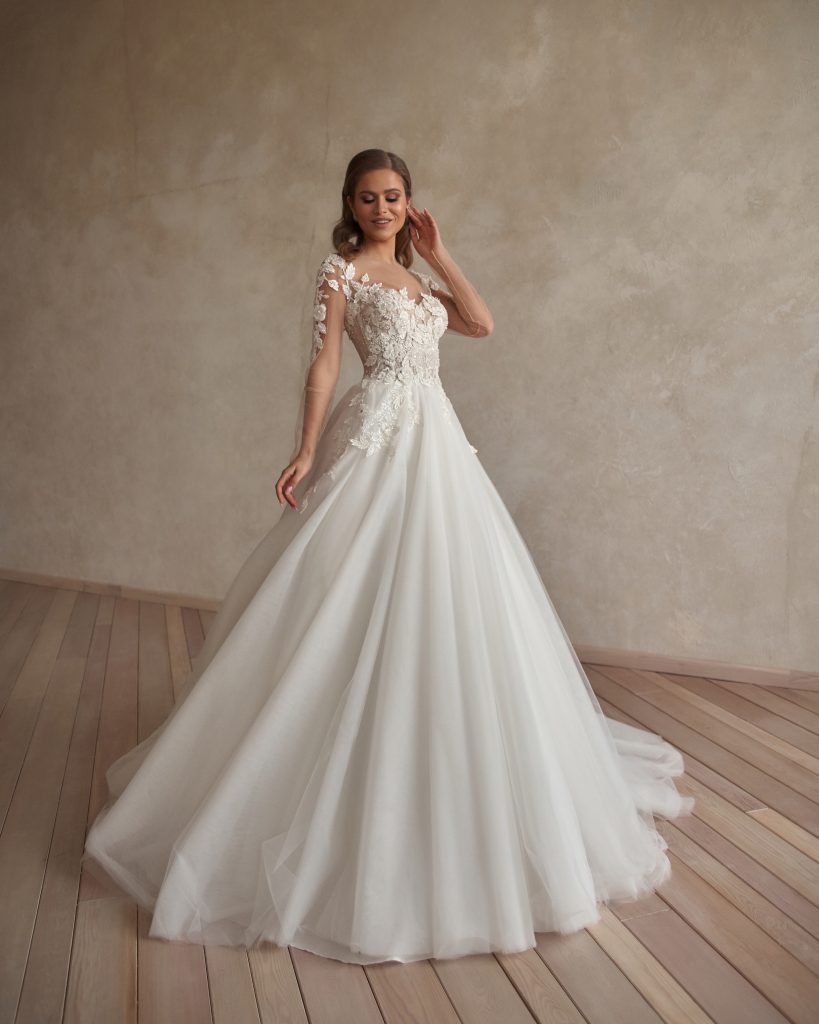 Budget Considerations
Setting a Realistic Budget
Wedding gowns come in a wide range of prices, so it's essential to establish a realistic budget before you start shopping. Allocate a portion of your wedding budget to your gown and factor in alterations, accessories, and additional costs.
Exploring Affordable Options
If you're working within a tighter budget, don't fret. There are plenty of affordable options available concerning style and quality. Look for sample sales, trunk shows, or even borrow a gown from a family member or friend.
Renting vs. Buying
In Renting a wedding gown has become a popular choice for budget-conscious brides. Also Renting allows you to wear a designer gown at a fraction of the cost, and you won't have to worry about long-term storage or preservation. However, buying may be better if you envision passing down your gown as an heirloom.
Shopping for Your Dream Dress
Visiting Bridal Boutiques
Visiting bridal boutiques offers a personalized and immersive experience—book appointments at reputable boutiques with a wide selection of gowns in different styles and sizes. Don't be afraid to try on dresses that may not have caught your eye initially – you might be pleasantly surprised.
Online Shopping
For the tech-savvy bride, online shopping provides convenience and access to a vast array of gown options. Take advantage of virtual try-on features and detailed size charts to ensure a better fit. However, exercise caution and research the credibility of the online store before making a purchase.
Bridal Sample Sales
Sample sales offer an opportunity to snag a designer gown at a significantly discounted price. These sales feature dresses that have been tried on but are in good condition. Remember that sample sales can be competitive, so arrive early and be prepared to decide on the spot.
Custom-Made Gowns
For brides seeking a genuinely one-of-a-kind gown, a custom-made option allows you to bring your vision to life. Work with a skilled designer who can translate your ideas into a breathtaking reality. Custom-made gowns offer endless possibilities and ensure a perfect fit.
Taking Care of Your Wedding Gown
Cleaning and Preservation
After the wedding, it's crucial to have your gown professionally cleaned and preserved to maintain its pristine condition. Research reputable preservation services specializing in wedding gowns and follow their instructions for long-term storage.
Storage Tips
If you plan to keep your gown, choose a storage option that protects it from dust, light, and humidity. Use acid-free tissue paper or a muslin garment bag to prevent discoloration and maintain the fabric's integrity.
Ever After Bride at Fiancée Bridal Boutique
Welcome to Fiancée Bridal Boutique, home of the stunning Ever After Bride collection. We understand your wedding day is a once-in-a-lifetime event, and finding the perfect gown is essential. Also our boutique is proud to offer the exclusive Ever After Bride collection, filled with exquisite gowns designed to make your wedding day unforgettable.
Unparalleled Elegance and Style
The Ever After Bride collection showcases unparalleled elegance and style. Each gown is meticulously crafted with attention to detail, ensuring a breathtaking look for every bride. This collection caters to tastes and preferences, from timeless classics to modern and romantic designs.
Luxurious Fabrics and Embellishments
The Ever After Bride gowns feature luxurious fabrics that drape gracefully, creating a stunning silhouette. Delicate lace, shimmering satin, and flowing tulle are some exquisite materials used. Also the dresses are adorned with intricate embellishments, including delicate beading, intricate embroidery, and sparkling crystals, adding a touch of glamour and sophistication.
Versatile Silhouettes
Whether you dream of a fairytale ball gown, a sleek mermaid silhouette, or a whimsical A-line dress, the Ever After Bride collection offers a wide range of shapes; each shift is designed to flatter various body types, accentuating your best features and ensure a perfect fit.
Unforgettable Details
Exquisite Necklines
The Ever After Bride gowns feature a variety of exquisite necklines that add a touch of allure and femininity. From classic sweetheart and elegant V-necklines to romantic illusion and off-the-shoulder styles, there's a neckline that will beautifully frame your face and enhance your natural beauty.
Enchanting Back Designs
Make a statement with the enchanting back designs found in the Ever After Bride collection. From intricate lace appliques to illusion details and dramatic low-back designs, these gowns ensure you'll look stunning from every angle as you walk down the aisle.
Unique Embellishments
The Ever After Bride collection stands out with its unique embellishments. Imagine delicate floral appliques cascading down a skirt, sparkling sequins adding a touch of glamour, or ethereal feathers creating a whimsical and romantic effect. So these distinctive embellishments make each gown truly special and unforgettable.
The Ever After Bride Experience at Fiancée Bridal Boutique
Personalized Consultation
At Fiancée Bridal Boutique, we believe in providing a personalized consultation to every bride. Our dedicated consultants will take the time to understand your vision and help you find the Ever After Bride gown that perfectly matches your style and personality. Your dream gown awaits!
Expert Fittings and Alterations
Our expert sewists will ensure a flawless fit once you've chosen you Ever After Bride gown. They will meticulously tailor the dress to your measurements, ensuring that it hugs your curves and accentuates your figure correctly. So we aim to make you feel like a princess on your special day.
Conclusion
The Ever After Bride collection at Fiancée Bridal Boutique offers a selection of stunning gowns designed to create unforgettable moments. With their unparalleled elegance, luxurious fabrics, and exquisite details, these gowns will make you feel like the most beautiful bride as you embark on your journey to forever.
FAQs
Can I try on the Ever After Bride gowns at Fiancée Bridal Boutique?
Yes, absolutely! Our boutique has a dedicated section where you can try on the Ever After Bride gowns. Our consultants will assist you throughout the process, ensuring you find the perfect dress for your special day.
Are the Ever After Bride gowns customizable?
While the Ever After Bride gowns are designed with meticulous attention to detail, some customization options may be available. Our consultants can guide you through the possibilities and discuss any potential alterations or modifications that can be made to ensure your gown reflects your unique style.
How far in advance should I order my Ever After Bride gown?
To ensure a seamless experience, we recommend ordering your Ever After Bride gown at least 6-9 months before your wedding date. So this allows ample production, shipping, and alterations time, ensuring that your dress fits perfectly for your special day.
Can I purchase accessories to complement my Ever After Bride gown?
Yes, we offer a stunning selection of bridal accessories that perfectly complement the Ever After Bride gowns. So from veils and headpieces to jewelry and shoes, our consultants can help you find the ideal accessories to complete your bridal look and add that extra magic touch.
Ready to find the gown of your dreams? Book your appointment at Fiancée Bridal Boutique today and experience the magic for yourself. Don't wait, as our calendar fills up quickly!
Call us at 832-823-4280 or visit our website to schedule your appointment. Your perfect wedding dress awaits!
Remember, your wedding day is a celebration of love and joy, and at Fiancée Bridal Boutique, we are committed to making your bridal journey truly unforgettable. So Book your appointment now and let us help you make your dreams come true.