Wedding planning is an exciting journey filled with dreams and visions of your perfect day. As a bride, one of the most crucial decisions is choosing the ideal wedding dress to make you feel like a princess on your special day. Fiancée Bridal Boutique is here to help you find your ever after bride dream dress and make your fairytale wedding a reality.
Introduction
Your wedding dress is not just any garment; it's a symbol of love, beauty, and your unique style. It reflects your personality and sets the tone for the entire wedding. At Fiancée Bridal Boutique, we understand the significance of finding the perfect dress that makes you feel confident, beautiful, and ready to walk down the aisle.
Finding the perfect wedding dress is an experience that should be cherished. It's a journey of self-discovery, where you'll explore various styles, fabrics, and designs to find the one that truly captures your essence. Your wedding dress will be a memory you'll treasure forever and deserves careful consideration.
The Fiancée Bridal Boutique Experience
When you enter Fiancée Bridal Boutique, you enter a world of elegance and personalized service. Our boutique is designed to provide an intimate and luxurious atmosphere, ensuring you feel special when walking through our doors.
At Fiancée Bridal Boutique, we take pride in our extensive collection of wedding dresses. We curate various styles, from timeless classics to modern designs, to suit every bride's taste and preference. We have the perfect gown if you envision yourself in a romantic ballgown, a sleek mermaid silhouette, or a bohemian-inspired lace dress.
Bridal Consultants: Your Stylists
Our experienced bridal consultants are dedicated to making your wedding dress shopping experience unforgettable. They will guide you through the entire process, from understanding your style preferences to recommending dresses that complement your body type and enhance your natural beauty.
Understanding Your Body Type and Dress Styles
Every bride is unique, and finding the right dress involves considering your body type and choosing a silhouette that flatters your figure. At Fiancée Bridal Boutique, our consultants will help you identify the dress styles that highlight your best features, whether you have an hourglass, pear, apple, or rectangular body shape.
Customization Options for a Truly Unique Dress
At Fiancée Bridal Boutique, we understand you may want a dress that reflects your individuality. That's why we offer customization options to create a truly unique gown. From modifying the neckline to adding delicate embellishments, our skilled seamstresses will bring your vision to life.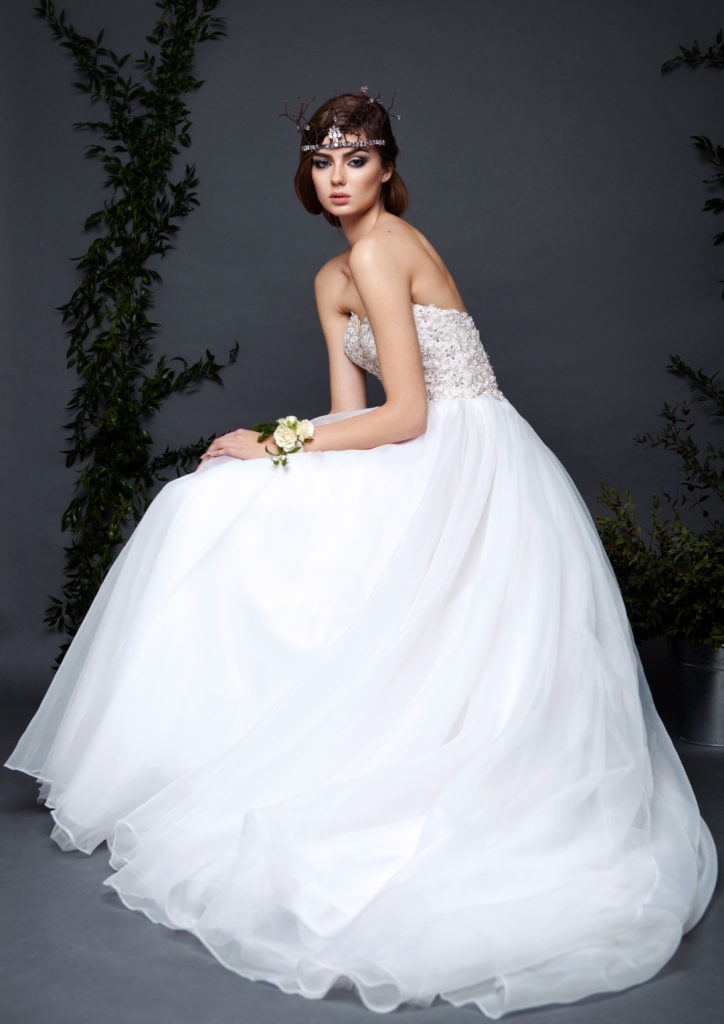 Fiancée Bridal Boutique offers a stunning selection of accessories to complete your bridal ensemble. From veils and tiaras to jewelry and shoes, we have everything you need to add the perfect finishing touches and create a cohesive look that exudes elegance and sophistication.
Quality Craftsmanship and Attention to Detail
When you choose a wedding dress from Fiancée Bridal Boutique, you can be confident in the quality and craftsmanship of our gowns. We partner with renowned designers who prioritize attention to detail, using only the finest fabrics, intricate lace, and delicate beadwork to create exquisite dresses that make you feel like an actual princess.
Affordable Luxury: Pricing Options at Fiancée Bridal Boutique
Every bride deserves to wear her dream dress without compromising her budget. At Fiancée Bridal Boutique, we offer a range of pricing options to accommodate various budgets, ensuring that you can find the perfect dress without breaking the bank. We aim to provide affordable luxury and make your wedding dreams come true.
Bridal Fittings
Once you've found your dream dress, our expert seamstresses will ensure a perfect fit through meticulous fittings. We understand the importance of a dress that hugs your curves in all the right places and makes you feel comfortable throughout your wedding day.
The Appointment Process: How to Get Started
To begin your wedding dress shopping journey at Fiancée Bridal Boutique, you only need to schedule an appointment. Our team will dedicate their time and expertise to you, ensuring you receive personalized attention and guidance throughout the process.
Real Bride Testimonials: Hear What They Have to Say
Don't just take our word for it; hear what our real brides say about their experience at Fiancée Bridal Boutique. We are proud to have helped countless brides find their perfect dresses and make their wedding day dreams come true.
Tips for a Successful Wedding Dress Shopping Experience
To make the most of your wedding dress shopping experience, here are some tips to consider:
Start early to allow enough time for fittings.
Research different dress styles and come prepared with some ideas.
Keep an open mind and try on different silhouettes to discover what suits you best.
Bring a trusted friend or family member whose opinion you value.
Trust your instincts and choose a dress that makes you feel beautiful and confident.
Conclusion
Your wedding day is a once-in-a-lifetime event, and finding the perfect wedding dress is essential to creating your happily ever after. At Fiancée Bridal Boutique, we are dedicated to making your dress shopping experience memorable and ensuring you find the gown that captures your unique style and beauty. So visit us today, and let us help you find your perfect ever after bride gown.
FAQs
1. How far in advance should I start shopping for my wedding dress?
It is recommended to start shopping for your wedding dress at least 9 to 12 months before your wedding day. This allows ample time for fittings and any customization you desire.
2. Can I bring my family and friends to the appointment?
Absolutely! We encourage you to bring a trusted friend or family member whose opinion you value. Their support and feedback can be invaluable during the decision-making process.
3. Do I need an appointment to visit Fiancée Bridal Boutique?
Yes, we highly recommend scheduling an appointment in advance. This ensures our team can provide you with the personalized attention and expertise you deserve.
4. What should I bring to my dress-shopping appointment?
It's helpful to bring inspiration or ideas for your dream dress. Additionally, wearing seamless underwear and getting a strapless bra can make trying on dresses more comfortable.
5. Can I make changes to the design of the dress?
Yes, at Fiancée Bridal Boutique, we offer customization options to make your dress uniquely yours. In addition, our talented seamstresses can work with you to bring your vision to life.
Ever After Bride Awaits
Discover the epitome of elegance and charm at Fiancée Bridal Boutique. Are you ready to embark on your journey towards forever with the perfect wedding dress? With our exquisite collection of bridal gowns, expertly crafted to capture your unique style and personality, your dream wedding awaits.
Step into a world of enchantment and let our experienced consultants guide you through our stunning selection of designer dresses, curated to cater to every bride's vision. From timeless classics to contemporary masterpieces, our handpicked collection showcases the finest fabrics, intricate details, and impeccable craftsmanship.
As you embark on this once-in-a-lifetime experience, we invite you to join us at Fiancée Bridal Boutique for a personalized consultation. Our team of passionate experts will ensure your journey to finding "the one" is nothing short of extraordinary. So allow us to embrace your dreams and turn them into reality.
Please book your appointment today, and let us help you create memories that will last a lifetime. So unveil your inner radiance, celebrate your love story, and walk down the aisle in the dress of your dreams. Your perfect moment awaits.