Your wedding day is a momentous occasion, and every detail matters, especially your Bridal fashion. Finding the perfect wedding gown and embracing the latest trends can make you feel like a princess. Regarding bridal fashion, Fiancée Bridal Boutique is the go-to destination for brides-to-be. With their exceptional collection and personalized service, they can help you create a stunning look that reflects your style and enhances your natural beauty.
The Evolution of Bridal Fashion
Bridal fashion has come a long way over the years. From traditional white gowns to modern designs, the choices are endless. Looking back at the history of bridal fashion, we can see how styles have evolved to embrace individuality and celebrate personal taste. Today, brides can choose from various designs, fabrics, and silhouettes to find a gown that truly represents them.
Current Trends in Bridal Fashion
The bridal fashion world is constantly evolving, and staying updated with the latest trends can help you make a fashion-forward statement on your big day. From unique cuts and colors to intricate details and embellishments, numerous options exist. Some popular trends include ethereal pastel gowns, bohemian lace designs, and minimalist silhouettes. Fiancée Bridal Boutique curates a collection that encompasses these trends and more, ensuring you have access to the latest styles.
Choosing the perfect wedding gown is a momentous task. Finding a dress that suits your body type and resonates with your style is essential. When you visit Fiancée Bridal Boutique, their experienced consultants will guide you through the selection process. They understand the importance of finding a gown that makes you feel confident and beautiful. With their vast collection and expertise, you will discover your dream wedding gown.
Accessorizing for the Big Day
No bridal ensemble is complete without the right accessories. Veils, jewelry, shoes, and other details add the finishing touches to your look. Fiancée Bridal Boutique offers a wide range of accessories to complement your gown and enhance your overall style. Whether you prefer a classic or contemporary look, their consultants can help you find the perfect accessories to elevate your bridal fashion.
Hair and Makeup Inspiration
Your wedding day is perfect for experimenting with your hair and makeup. Numerous hairstyles can enhance your bridal look, from elegant updos to soft waves. Professional makeup artists can also create a flawless and long-lasting look that accentuates your features. Don't hesitate to seek inspiration from magazines or online sources to discover the styles that resonate with you. Remember, Fiancée Bridal Boutique can recommend trusted professionals specializing in bridal hair and makeup.
Customization and Personalization
Personalizing your bridal ensemble can make it even more special. Fiancée Bridal Boutique understands the importance of adding unique touches to your gown. Whether incorporating sentimental details or customizing the fit, their team can bring your vision to life. Adding personal elements lets you create a dress that tells your love story and showcases your individuality.
Groom's Attire and Coordination
Coordinating the groom's attire with the bride's ensemble creates a cohesive and harmonious look. Fiancée Bridal Boutique offers a selection of suits and tuxedos that complement various wedding themes. Whether you prefer a classic black tuxedo or a more contemporary suit, their consultants can help you find the perfect match. Coordinating your outfits will ensure you both shine on your special day.
Bridesmaid and Mother of the Bride Dresses
Bridal fashion extends beyond the bride's gown. Bridesmaid and mother-of-the-bride dresses are essential in completing the overall wedding aesthetic.
Don't Forget the Lingerie
While your wedding gown is the show's star, the right lingerie is essential for a flawless fit and comfort throughout the day. Fiancée Bridal Boutique offers a selection of lingerie pieces that are both beautiful and comfortable. From supportive undergarments to delicate lace pieces, their collection will make you feel fabulous from the inside out.
The Importance of Comfort
While looking stunning is a top priority, it's equally important to feel comfortable on your wedding day. Fiancée Bridal Boutique understands the significance of comfort. It offers a selection of gowns and accessories that prioritize style and ease. In addition, their consultants will guide you toward options that allow you to move, dance, and celebrate comfortably.
Shopping Timeline and Budgeting
To ensure a stress-free shopping experience, planning your bridal fashion timeline and budget is crucial. Start shopping for your wedding gown and accessories well in advance to allow ample time for alterations and fittings. Additionally, establish a budget and prioritize your expenses accordingly. Fiancée Bridal Boutique offers diverse options to accommodate different budgets, allowing you to find the perfect gown without compromising quality or style.
Fiancée Bridal Boutique's Exceptional Service
Choosing Fiancée Bridal Boutique for your bridal fashion needs guarantees exceptional service and an unforgettable experience. Their knowledgeable staff is passionate about helping brides find their perfect ensembles. From personalized consultations to expert guidance, they go above and beyond to ensure you feel pampered and supported throughout your bridal fashion journey. At Fiancée Bridal Boutique, you're not just a customer but a cherished member of their bridal family.
Conclusion
Embracing the latest bridal fashion for your wedding is an exciting journey. By selecting Fiancée Bridal Boutique as your trusted partner, you can confidently explore the latest trends, find your dream gown, and complete your bridal look with the perfect accessories. Their exceptional service, vast selection, and commitment to your satisfaction make them the ideal destination for brides-to-be. Create memories that last a lifetime by embracing the latest bridal fashion from Fiancée Bridal Boutique.
FAQs
Can I visit Fiancée Bridal Boutique without an appointment?
While appointments are highly recommended, walk-ins are also welcome. However, booking an arrangement ensures that a dedicated consultant can provide personalized assistance.
Do I need to bring anything to my appointment?
It's helpful to bring pictures or inspiration boards showcasing your preferred styles or elements to incorporate into your bridal look. Additionally, wearing appropriate undergarments can help you envision the final fit.
Can Fiancée Bridal Boutique accommodate plus-size brides?
Absolutely! Fiancée Bridal Boutique offers various sizes to accommodate all body types. Their collection includes plus-size options designed to flatter and celebrate every curve.
How far in advance should I start shopping for my wedding gown?
It's recommended to start shopping for your gown at least 8-12 months before your wedding date. This timeline allows ample time for browsing, selecting, and scheduling alterations.
What is the price range of gowns at Fiancée Bridal Boutique?
Fiancée Bridal Boutique offers gowns in various price ranges to suit different budgets. Their collection includes options for every price point, ensuring every bride can find her dream gown.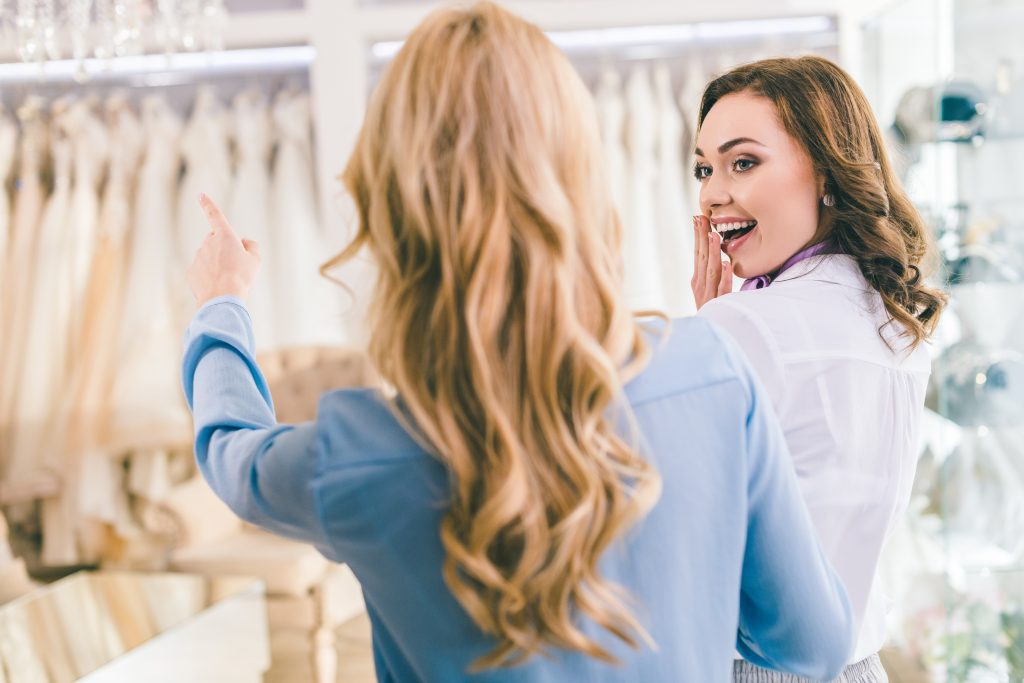 Don't let your wedding day be anything less than extraordinary. Visit Fiancée Bridal Boutique today and let us help you find the dress of your dreams. Your once-in-a-lifetime moment awaits.
Call us now at 832-823-4280 to schedule your exclusive bridal appointment and take the first step toward creating the wedding you've always envisioned. Limited slots are available!