Planning a wedding can be both exciting and overwhelming. From selecting the perfect venue to choosing the right dress, every decision contributes to creating the dream wedding experience. Finding the ideal wedding salon is a crucial aspect that plays a significant role in your big day's success. With numerous salons to choose from, making an informed decision is essential. In this article, we'll explore the process of finding the ideal wedding salon near you and introduce you to the charm of Fiancée Bridal Boutique.
Importance of Choosing the Right Wedding Salon
Selecting the right wedding salon is vital as it sets the tone for your wedding experience. A well-established and reputable salon will provide expert guidance, top-notch services, and a stress-free environment. The professionals at a quality salon understand the importance of attention to detail and work closely with you to bring your wedding vision to life. They strive to create a memorable experience, ensuring you feel radiant and beautiful on your special day.
Factors to Consider When Selecting a Wedding Salon
Before diving into the search for a wedding salon, it's crucial to consider various factors to ensure you find the perfect match. Here are some key considerations:
Choosing a wedding salon that is conveniently located for you and your bridal party will make the preparation process more efficient and less stressful. Consider the accessibility and proximity of the salon to your wedding venue and other key locations.
Services and Packages
Evaluate the services and packages offered by different salons. Look for comprehensive packages, including hairstyling, makeup, manicures, pedicures, and other desired treatments. Ensure that the salon can cater to the specific needs of you and your bridal party.
Reputation and Reviews
Check the reputation and reviews of the salons you're considering. Read testimonials from previous clients to gauge their satisfaction levels. Positive reviews and recommendations indicate a salon's reliability and quality of service.
Expertise and Experience
Experience matters when it comes to bridal salons. Look for salons with experienced stylists and professionals specializing in bridal hair and makeup. Their expertise and knowledge will ensure that you receive exceptional services tailored to your unique style and preferences.
Determine your budget and find salons that offer services within your price range. While sticking to your budget is essential, remember that quality and satisfaction should be the primary considerations.
The Allure of Fiancée Bridal Boutique
Fiancée Bridal Boutique stands out as a haven for brides-to-be among the many wedding salons available. With their commitment to excellence and personalized approach, they strive to make your wedding day extraordinary. Here's why Fiancée Bridal Boutique is a top choice for brides:
Overview of Fiancée Bridal Boutique
Fiancée Bridal Boutique is renowned for its outstanding bridal services and exceptional attention to detail. They have a team of talented stylists and makeup artists who specialize in creating stunning bridal looks. In addition, the boutique exudes elegance and warmth, providing an inviting and relaxing environment for brides and their entourage.
Range of Services Offered
Fiancée Bridal Boutique offers comprehensive services to meet all your wedding beauty needs. From bridal hair styling and makeup to nail services and skincare treatments, they ensure you look and feel your best on your special day. They also provide trials and consultations to understand your preferences and customize the services accordingly.
Attention to Detail
The staff at Fiancée Bridal Boutique understands the significance of every detail. They pay meticulous attention to your desires and work closely with you to bring your vision to life. Whether you prefer a classic, romantic, or contemporary look, they have the expertise to create the perfect bridal aesthetic that complements your style.
Experienced and Friendly Staff
Fiancée Bridal Boutique boasts a team of highly skilled professionals who are passionate about their craft. They have years of experience in the bridal industry, staying up-to-date with the latest trends and techniques. The staff is friendly, patient, and dedicated to ensuring your satisfaction. In addition, they create a warm and welcoming atmosphere, making your salon experience enjoyable and stress-free.
Finding the Perfect Wedding Salon Near You
Once you understand the importance of selecting the right wedding salon and have discovered the allure of Fiancée Bridal Boutique, it's time to embark on your search for the perfect salon near you. Here are some effective strategies:
Utilizing Online Directories and Search Engines
Online directories and search engines can be valuable tools for finding wedding salons in your area. Use specific keywords like "wedding salons near me" or "bridal salons in Spring Texas" to generate relevant results. Explore the websites of different salons to gather information about their services, pricing, and customer reviews.
Local Recommendations and Referrals
Seek recommendations from friends, family, and other trusted sources who have recently married or have firsthand experience with local salons. Personal referrals can provide valuable insights and help you narrow down your choices.
Attending Bridal Shows and Expos
Bridal shows and expos are excellent opportunities to connect with various vendors, including wedding salons. These events often feature multiple salons showcasing their services, allowing you to meet the stylists, see their work, and gather brochures and contact information.
Social Media and Wedding Forums
Utilize social media platforms and wedding forums to gather information and recommendations from brides in your area. Join wedding-related groups, ask for suggestions, and read about others' experiences with local salons. These platforms can provide a wealth of insights and help you discover hidden gems.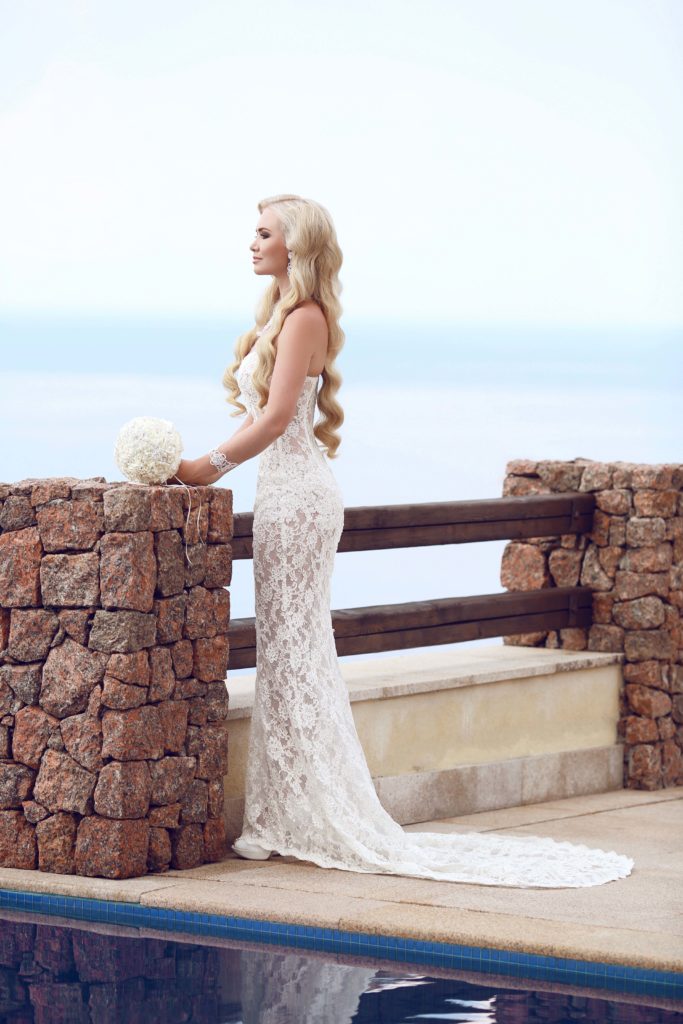 Making the Final Decision
It's time to decide after conducting thorough research and shortlisting potential salons. Here are some critical steps to follow:
Scheduling Consultations and Visiting Salons
Contact the salons on your list and schedule consultations. Meeting the salon staff in person allows you to assess their professionalism, evaluate their ambiance, and determine if they align with your vision. It's also an opportunity to discuss your preferences, get recommendations, and address concerns.
Asking the Right Questions
Prepare a list of questions to ask during your consultations. Please inquire about the stylists' experience, availability on your wedding day, the salon's cancellation policy, and any additional charges. Feel free to seek clarification and express your expectations.
Comparing Packages and Pricing
Review the packages and pricing offered by each salon. Evaluate what's included in each package, such as pre-wedding trials, touch-ups, and on-site services. Consider your budget, the value you receive for your investment, and the flexibility of the salon in accommodating your specific needs.
Trusting Your Instincts
Ultimately, trust your instincts when making the final decision. Consider the salon staff's overall vibe, professionalism, and genuine interest. Choose the salon that provides exceptional services and makes you feel comfortable and confident in your abilities.
Conclusion
Finding the perfect wedding salon near you is crucial in creating your dream wedding experience. You can narrow down your options by considering important factors such as location, services, reputation, expertise, and budget. The allure of Fiancée Bridal Boutique lies in their attention to detail, range of services, and experienced staff. Utilize online resources, local recommendations, bridal shows, and social media to find salons that match your preferences. Once you've shortlisted potential salons, schedule consultations, ask pertinent questions, compare packages and pricing, and trust your instincts when making the final decision. Remember, the right salon will make you feel confident, beautiful, and ready to walk down the aisle.
FAQs (Frequently Asked Questions)
How far in advance should I book a wedding salon?
It's recommended to book your wedding salon at least 6-12 months in advance to secure your preferred date and stylist.
Can I bring photos or inspiration for my desired bridal look?
Absolutely! Bringing photos or inspiration boards can help salon professionals understand your vision and create the perfect look for you.
Do wedding salons offer on-site services?
Many wedding salons offer on-site services for your convenience. Inquire about this option during your consultations.
What should I do if I'm unsatisfied with the trial session?
Communicate openly with your stylist about any concerns or adjustments you want. They will work with you to ensure your satisfaction.
Is it customary to tip the salon staff on the wedding day?
Tailing the salon staff for their exceptional services on your wedding day is customary. Inquire about their tipping policy or ask for recommendations on appropriate gratuity amounts.
Learn more about us.
From timeless classics to contemporary designs, our curated selection offers something for every bride-to-be. Step into our world of enchantment, where each gown is meticulously crafted with the finest fabrics, intricate details, and impeccable tailoring. Our team of experienced bridal consultants is dedicated to providing personalized attention, ensuring you find the dress that embodies your unique style and celebrates your love most magically.
Ready to embark on this extraordinary journey? Please book your appointment today, and let us guide you through our breathtaking collection. With every gown tried on, you'll discover a piece of your heart within it, bringing you one step closer to your happily ever after.
Don't wait another moment to find the dress of your dreams! Call us at 832-823-4280 or visit our website to schedule your appointment now. Your perfect gown awaits at Fiancée Bridal Boutique!"