Welcome to the enchanting bridal fashion world, where dreams are transformed into reality. The wedding day holds immense significance in a person's life, and every bride wants to look and feel her best as she walks down the aisle. Staying up-to-date with the latest bridals style trends ensures brides can showcase their unique personalities while embracing the moment's magic. In this article, we will delve into the top bridal style trends for 2023, specifically in Spring, Texas, brought to you by Fiancée Bridal Boutique.
Romantic Lace: A Timeless Classic
Regarding bridal fashion, lace has always held a special place. Its delicate and intricate patterns evoke a sense of romance and elegance. In 2023, lace takes center stage as a timeless classic. Brides can choose from various styles, including full lace gowns, illusion lace sleeves, and lace appliqués on skirts or bodices. In addition, lace details add a touch of femininity and sophistication to any bridal look, ensuring an ethereal and romantic aura.
Bohemian Chic: Embracing Free-Spirited Vibes
For the carefree and bohemian brides, 2023 brings an array of bohemian-inspired bridals styles. Flowing silhouettes, ethereal fabrics like chiffon and organza, and nature-inspired embellishments dominate this trend. Brides can adorn themselves with flower crowns and dainty headpieces, incorporating natural elements such as leaves or feathers. Bohemian chic is all about embracing free-spirited vibes while exuding grace and charm.
Modern Minimalism: Sleek and Sophisticated
Modern minimalism takes the bridal fashion scene by storm in stark contrast to the elaborate and ornate gowns. Clean lines, sleek silhouettes, and precise tailoring define this trend. Luxurious fabrics like silk and satin are favored, allowing the simplicity of the design to shine through. Brides who appreciate understated elegance will find themselves drawn to this sophisticated style.
Statement Sleeves: Adding Drama and Elegance
Dramatic sleeves make a grand entrance in 2023 bridal fashion. Bell, bishop, and puff sleeves are all the rage, adding a touch of drama and elegance to the bride's ensemble. These statement sleeves effortlessly transform a simple gown into a showstopper. Additionally, brides can balance the attention-grabbing sleeves with a more subdued neckline or skirt, creating a harmonious overall look.
Bold Colors: Breaking Tradition
Gone are the days when white was the only color option for bridal gowns. In 2023, brides are stepping away from tradition and embracing bold colors. Blush, champagne, and even black dresses make a striking statement. In addition, brides can choose to incorporate color through accessories like sashes or opt for fully colored-gowns. This trend allows brides to showcase their individuality while still looking undeniably radiant.
Ethereal Embroidery: Artistry in Detail
Embroidery takes on a celestial form in 2023 bridal fashion. Intricate floral motifs and delicate embellishments adorn gowns, adding an ethereal and enchanting touch. Brides seeking a unique and personalized look will appreciate the artistry displayed through exquisite embroidery. Combining embroidery with other style elements, such as lace or beading, creates a mesmerizing effect.
Sustainable Choices: Eco-Friendly Bridal Fashion
As sustainability gains prominence in the fashion industry, it extends its influence to bridal fashion in 2023. Brides can make eco-friendly choices by opting for gowns crafted from organic or recycled fabrics. Supporting designers and brands committed to sustainability ensures that brides can celebrate their special day with a clear conscience, knowing their fashion choices align with their values.
Mix and Match: Personalizing the Bridal Look
Personalization is vital when it comes to bridals style trends in 2023. The mix-and-match trend allows brides to curate a bridal look entirely independently. They can experiment with different separates, combining skirts, tops, and accessories to create a unique ensemble. This trend empowers brides to express their style and create a look that perfectly reflects their personality.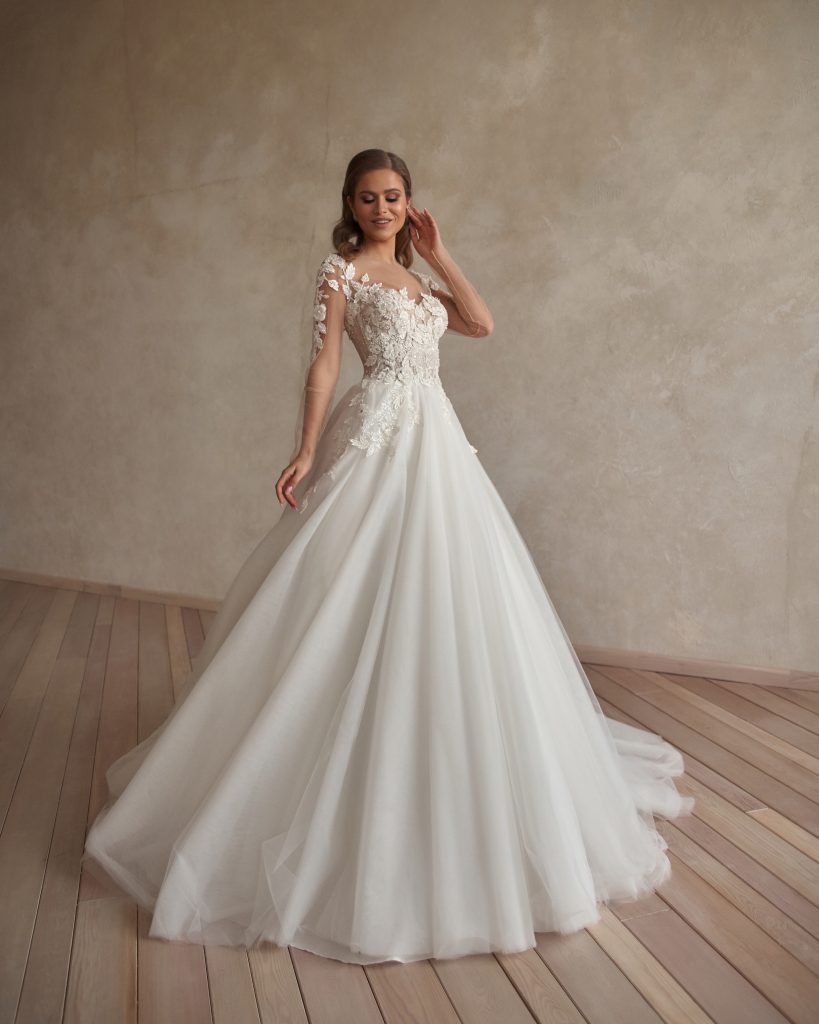 Cape Drama: Regal and Romantic
Capes will take the bridal fashion world by creating a regal and romantic aura in 2023. Whether a dramatic floor-length cape or a delicate shoulder cape, this trend adds a touch of enchantment to the bridal look. Brides can choose from styles such as lace capes, sheer capes, or embellished capes. Adding a cape enhances the overall bridal ensemble, exuding a sense of grandeur and sophistication.
Sparkling Accents: Adding Glamour and Shine
For brides who love all things glamorous, sparkling accents are a must-have in 2023. Sequins, crystals, and beading are used strategically to create dazzling effects on gowns. So Whether a fully embellished bodice or delicate sparkling details on a veil, these accents add a touch of opulence and make the bride shine even brighter on her special day.
Back Details: Intrigue from Every Angle
While the front of the gown captures attention, the back details create intrigue from every angle. Low-back designs, illusion backs, and cut-out styles are in vogue for 2023. Also Brides can choose a gown that wows not only from the front but also with intricate and eye-catching back designs. Pairing the back details with the right hairstyle and accessories completes the captivating bridal look.
Floral Prints: Embracing Nature's Beauty
In 2023, bridals style embraces the beauty of nature through floral prints. Subtle or bold floral patterns grace gowns, adding a whimsical and romantic touch. Brides who want to showcase their love for all things botanical can opt for a gown with delicate floral prints. Coordinating the rest of the bridal look with floral elements, such as floral accessories or bouquets, enhances the overall theme and creates a harmonious aesthetic.
With its soft and ethereal qualities, Tulle reigns supreme in 2023 bridal fashion. Layered tulle skirts create a dreamy and romantic aesthetic. Brides can choose from various silhouettes, including A-line, ball gown, or mermaid, to showcase the whimsical nature of Tulle. Veils made from cascading Tulle add an extra touch of enchantment, completing the fairytale-inspired bridal look.
As we conclude our exploration of the top bridals style trends for 2023 in Spring, Texas, it's important to remember that trends are meant to inspire and guide. Ultimately, the perfect bridal style makes the bride feel beautiful, confident, and authentic to herself. Fiancée Bridal Boutique is committed to helping brides find their dream gown and embracing their individuality.
FAQs (Frequently Asked Questions)
How far in advance should I start looking for my bridal gown?
It's recommended to start shopping for your bridal gown about 9-12 months before your wedding date. This allows ample time for fittings, alterations, and any desired customizations.
Are the bridals style trends of 2023 suitable for all body types?
Absolutely! The beauty of the bridals style trends for 2023 is their versatility. From flowing silhouettes to sleek designs, options are available to flatter every body type and celebrate every bride's unique beauty.
Can I incorporate multiple bridals style trends into my gown?
Certainly! Mixing and matching different trends is a great way to create a personalized and genuinely unique bridal look. Feel free to combine elements from various styles to reflect your taste and personality.
How can I accessorize my bridal look to complement the chosen style?
Accessories play a crucial role in completing your bridal ensemble. For lace gowns, delicate pearl or crystal jewelry can enhance the romantic vibe. For bohemian chic styles, consider floral crowns or natural-inspired hair accessories. Consult with a bridals stylist to find the perfect accessories for your chosen style.
Where can I find Fiancée Bridal Boutique in Spring, Texas?
Fiancée Bridal Boutique is conveniently located at 200 Main St. Spring Texas 77373. Visit our boutique to explore our wide range of stunning bridal gowns and receive personalized guidance from our expert consultants.
Discover the epitome of elegance and luxury at Fiancée Bridal Boutique. Experience a world where dreams come true and every detail is crafted to perfection. From exquisite designer gowns to personalized service, we are here to make your wedding day unforgettable. So take the first step towards your forever love story. So Book your exclusive appointment today, and let us bring your bridal dreams to life. Embrace the extraordinary at Fiancée Bridal Boutique.
Get ready to say "yes" to your dream dress! Call Fiancée Bridal Boutique today at 832-823-4280 and secure your exclusive appointment. So Our expert stylists are waiting to help you find the perfect gown that will make you feel like an actual bride-to-be. So don't wait another moment to start your forever love story in style. Dial 832-823-4280 now and let the magic begin at Fiancée Bridal Boutique!