At Fiancée Bridal Boutique, we understand that your wedding day is one of the most important days of your life. That's why our professional bridal stylists are dedicated to providing you with the best possible experience when finding the perfect dress.
Introducing Our Professional Bridal Stylists
At Fiancée Bridal Boutique, we are proud to have a team of expert bridal stylists passionate about helping brides find their dream dresses. Our stylists have years of experience in the bridal industry and deeply understand what it takes to create the perfect bridal look.
Our head bridal stylist, has been with Fiancée Bridal Boutique for over a decade. She has a keen eye for detail and is passionate about helping brides find a dress that makes them feel confident and beautiful on their big day.
Our assistant bridal stylist, has worked in the bridal industry for over five years. She has a natural talent for understanding a bride's vision and helping them find a dress that matches their style and personality.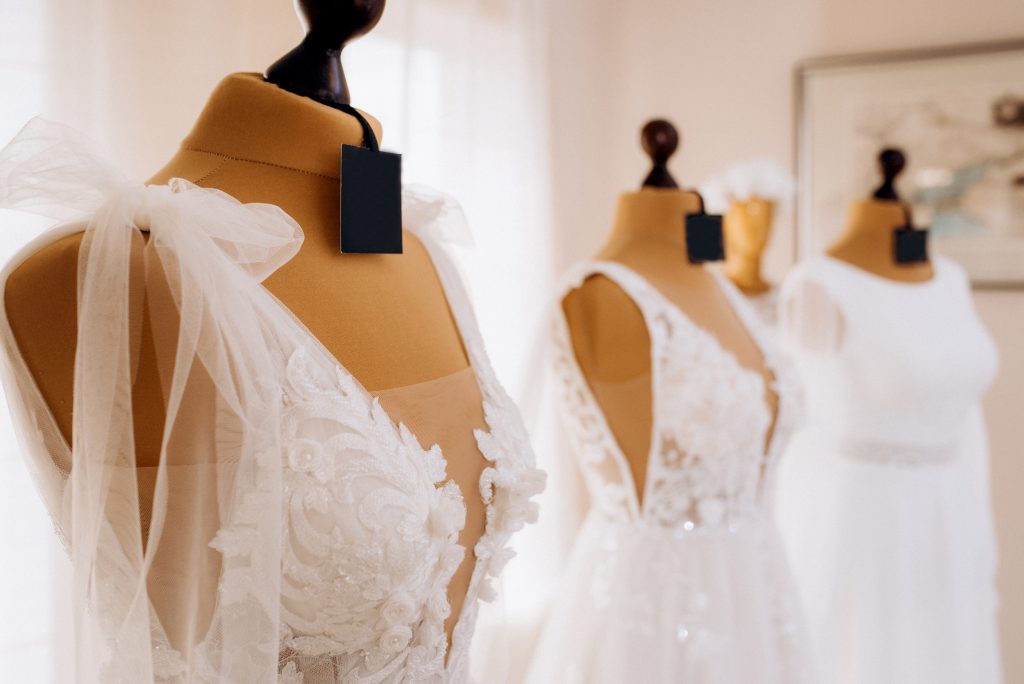 Why Work With a Professional Bridal Stylist?
Shopping for a wedding dress can be an overwhelming and stressful experience. With so many options, knowing where to start can be challenging. That's where our professional bridal stylists come in.
When you book an appointment with us, you'll be paired with a stylist who will work with you one-on-one to understand your vision and help you. Also our stylists have extensive inventory knowledge and can easily guide you through the selection process.
Additionally, our stylists can offer valuable insight and advice on everything from accessorizing your dress to choosing the perfect shoes.
Why Choose Fiancée Bridal Boutique?
At Fiancée Bridal Boutique, we pride ourselves on providing our clients with the best possible experience when finding the perfect wedding dress. Also our stylists are dedicated on creating a comfortable and enjoyable shopping experience for every client.
We carry a wide range of designer wedding gowns, including "Off the Rack" dresses up to size 20. In addition, our inventory is constantly updated to reflect the latest trends and styles, so to the most current options for finding your dream dress.
In addition to our extensive inventory, so we offer a range of bridal accessories, including veils, jewelry, and shoes. So our stylists can help you choose the perfect accessories to complement your dress and complete your bridal look.
FAQs
Q1. What is a Professional Bridal Stylist? 
A1. A professional bridal stylist is a specialist who helps brides-to-be achieve their desired look for their wedding day. Also they offer expert wedding fashion, hair, makeup, and accessories advice to create a cohesive and personalized bridal style.
Q2. What are the benefits of hiring a Professional Bridal Stylist?
 A2. Hiring a professional bridal stylist can help alleviate stress and anxiety surrounding bridal fashion choices. Also they can provide objective advice and expertise in selecting the perfect dress, hair, makeup, and accessories to fit the bride's personality, theme, and budget. additionally they can also coordinate with other wedding vendors to ensure a seamless and cohesive look on the wedding day.
Q3. How do I find the right Professional Bridal Stylist for me?
A3. Research local bridal boutiques and stylists to find the right professional bridal stylist. Read reviews, view their portfolios, and schedule consultations to discuss your vision and ensure they align with your style and preferences.
Q4. What services does Fiancée Bridal Boutique offer?
A4. Fiancée Bridal Boutique offers bridal services, including professional bridal styling, custom-made wedding gowns, alterations, and accessories. Also they have a team of experienced and highly trained bridal stylists.
Q5. How do I schedule an appointment with Fiancée Bridal Boutique for bridal styling services?
A5. To schedule an appointment with Fiancée Bridal Boutique for bridal styling services, visit their website or call their customer service line to book a consultation with one of their expert bridal stylists. Also during the consultation, the stylist will work with you to create a personalized bridal styling plan that fits your preferences and budget.
Book Your Appointment Today
If you're ready to start finding your dream wedding dress, we invite you to book an appointment with one of our professional bridal stylists. Also at Fiancée Bridal Boutique, Is dedicated to making your wedding dress shopping experience as enjoyable and stress-free as possible.
Contact us today to schedule your appointment and find the perfect dress for your big day.