Are you a bride-to-be searching for the perfect unique bridal dresses that reflects your unique style and personality? Look no further than Fiancée Bridal Boutique, where your dream dress awaits. Our boutique offers an extensive collection of exquisite bridal gowns, carefully curated to cater to every bride's taste. From classic elegance to modern chic, we have the perfect dress to make you feel like the most beautiful bride on your special day.
At Fiancée Bridal Boutique, we understand that every bride deserves to find a Unique Bridal dresses that fits her body flawlessly and captures her unique essence. Our mission is to provide an unforgettable bridal shopping experience where you can explore a diverse range of beautiful gowns and discover the one that speaks to your heart.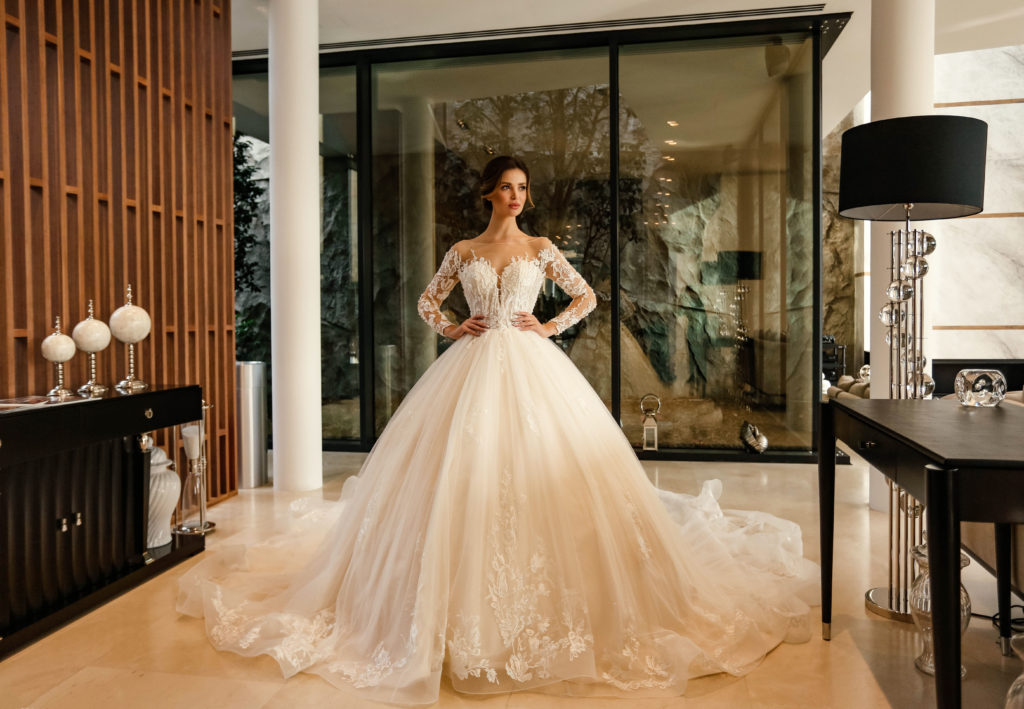 Fiancée Bridal Boutique: Your Ultimate Bridal Shopping Destination
Fiancée Bridal Boutique is a haven for brides seeking unparalleled elegance and sophistication. Our boutique is thoughtfully designed to offer a serene and intimate atmosphere, ensuring you feel comfortable and relaxed while exploring our stunning collection.
Your wedding day is one of the most important days of your life, and your bridal dress plays a significant role in creating cherished memories. It symbolizes your style and sets the tone for the wedding celebration. Finding the perfect bridal dress makes you feel confident, radiant, and truly yourself as you walk down the aisle.
Embrace Your Unique Style: Exploring Different Bridal Dress Designs
At Fiancée Bridal Boutique, we celebrate diversity and offer various unique bridal dresses designs to suit every taste. Whether you envision a romantic ball gown, a sleek mermaid silhouette, or a bohemian-inspired sheath dress, our collection caters to various styles and preferences.
Classic Elegance: Timeless Beauty for Traditional Brides
For brides who appreciate timeless elegance, our boutique showcases an exquisite selection of classic bridal gowns. These dresses feature delicate lace, intricate beadwork, and graceful silhouettes that pay homage to tradition while maintaining a touch of modernity.
Modern Chic: Embracing Contemporary Bridal Fashion Trends
Our modern chic collection is perfect if you're a bride with an eye for the latest fashion trends. These dresses boast clean lines, unique textures, and unexpected details, making them ideal for brides who want to make a stylish statement on their big day.
Showstopper Glam: Making a Statement on Your Wedding Day
Our showstopper collection is designed to captivate and wow the bold and glamorous bride. These dresses feature dramatic silhouettes, luxurious fabrics, and eye-catching embellishments, ensuring all eyes will be on you as you make your grand entrance.
Fit for a Princess: Fairy Tale-Inspired Bridal Dresses
If you've always dreamed of a fairy tale wedding, our princess-inspired bridal dresses will make your dreams come true. These gowns exude romance with voluminous skirts, cascading layers of tulle, and exquisite details that make you feel like a true princess bride.
A Dress for Every Body Type: Flattering Options for All Brides
At Fiancée Bridal Boutique, we believe every bride should feel beautiful and confident, regardless of her body type. That's why our collection includes a diverse range of sizes and styles, ensuring you can find a dress that flatters your unique figure and makes you shine on your special day.
Customization Options: Tailoring Your Dress to Perfection
Every bride is unique, and sometimes you may want to add a personal touch to your bridal dress. At Fiancée Bridal Boutique, we offer customization options allowing you to tailor your gown to your specifications.
Accessorizing Your Bridal Look: Adding the Finishing Touches
Fiancée Bridal Boutique offers a stunning selection of accessories to complete your bridal ensemble. From sparkling tiaras and delicate veils to elegant jewelry and stylish shoes, we have everything you need to add those final touches and elevate your bridal look to perfection.
Choosing the Right Fabric: Ensuring Comfort and Style
Choosing fabric is crucial for comfort and style when selecting your bridal dress. At Fiancée Bridal Boutique, we guide you in choosing the material that enhances the overall design and ensures you feel comfortable throughout your special day.
The Importance of a Perfect Fit: Working with Professional Seamstresses
A well-fitted unique bridal dresses enhances confidence and allows you to move gracefully and quickly. Our team of professional seamstresses is dedicated to providing expert work and ensuring that your dress fits you like a glove, highlighting your best features and making you feel incredible.
The Bridal Appointment Experience: What to Expect at Fiancée Bridal Boutique
When you schedule a bridal appointment at Fiancée Bridal Boutique, you can expect a personalized and memorable experience. Our friendly and knowledgeable consultants will guide you through the dress selection process, offer expert advice, and ensure you feel comfortable and supported at every step.
From Classic to Contemporary: A Wide Range of Styles
Fiancée Bridal Boutique understands that every bride has her sense of style. Our collection features various types, from classic and timeless designs to modern and contemporary silhouettes. Whether you envision a romantic ball gown, a sleek mermaid dress, or a bohemian-inspired sheath, we have the perfect dress to suit your taste.
Making Memories: Sharing the Journey with Loved Ones
Finding your perfect unique bridal dresses is a momentous occasion that should be shared with your loved ones. Fiancée Bridal Boutique welcomes your family and friends to accompany you during your appointment, creating cherished memories as you embark on this exciting journey together.
A Flattering Silhouette: Accentuating Your Best Features
Our consultants understand the importance of a flattering silhouette. They will help you explore different cuts and styles that accentuate your best features. Whether you wish to highlight your waist, elongate your profile, or emphasize your décolletage, Fiancée Bridal Boutique ensures that you find a dress that makes you look and feel stunning.
Final Thoughts: Finding Your Perfect Unique Bridal Dresses
Your wedding day celebrates love and the start of a beautiful journey. Finding your perfect unique bridal dress at Fiancée Bridal Boutique will make this day even more special. Embrace your style, express your personality, and let your clothing reflect your identity as a bride.
FAQs
How can I schedule an appointment at Fiancée Bridal Boutique?
To schedule an appointment at Fiancée Bridal Boutique, visit our website or call us. Our friendly team will be delighted to assist you and book a convenient time for your visit.
Can I bring my family and friends to my bridal appointment?
We encourage you to bring your loved ones to share the joy of finding your perfect bridal dress. Their support and presence will make the experience even more special.
Do you offer plus-size bridal dresses?
Absolutely! At Fiancée Bridal Boutique, we believe in inclusivity, and our collection includes a range of sizes to ensure that every bride finds her dream dress.
How far in advance should I start shopping for my bridal dress?
It is recommended to start shopping for your bridal dress approximately 9-12 months before your wedding day. So this allows ample time for selection, alterations, and any customization you desire.
Prepare to embark on an unforgettable journey of finding your perfect unique bridal dress at Fiancée Bridal Boutique. Visit us today, and let us help you realize your wedding dreams.